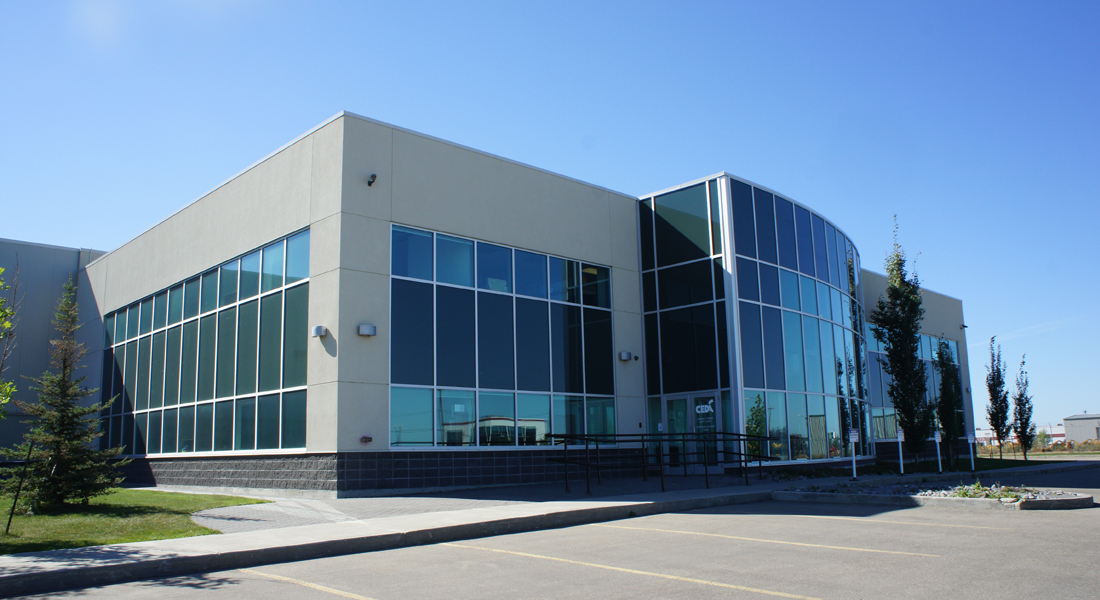 6005 – 72A Avenue Edmonton, Alberta
Located in the Davies Industrial East business park of Edmonton, this 58,393 ft² specialty building is comprised of 25,520 ft² of office and 32,873 ft² of warehouse. The building is situated on 7.66 acres on the south side of 72 A Avenue just east of 67 Street. Imperial completed this build to suit project in July 2008.
The building features a two storey curtain wall finish with the balance of the exterior walls of split face concrete block and acrylic stucco. It is barrier free and all areas are wheelchair accessible. The interior features include two full floors of office, state of the art lighting and a fire supression system. The 2nd floor offices are accessed by elevator or by the feature staircase leading to an open area that overlooks the entire main reception. The warehouse features include extensive craneways and state of the art electrical and mechanical systems. The storage yard is a 4 acre fenced and compacted compound with concrete grey beams that ensure safety and stability of the extensive pallet racking system.
EPCOR – EPCOR, through its wholly owned subsidiaries, builds, owns and operates electrical, natural gas and water transmission and distribution networks, water and wastewater treatment facilities, sanitary and stormwater systems, and infrastructure in Canada and the United States. The Company also provides electricity, natural gas and water products and services to residential and commercial customers. EPCOR, headquartered in Edmonton, is an Alberta Top 70 employer.