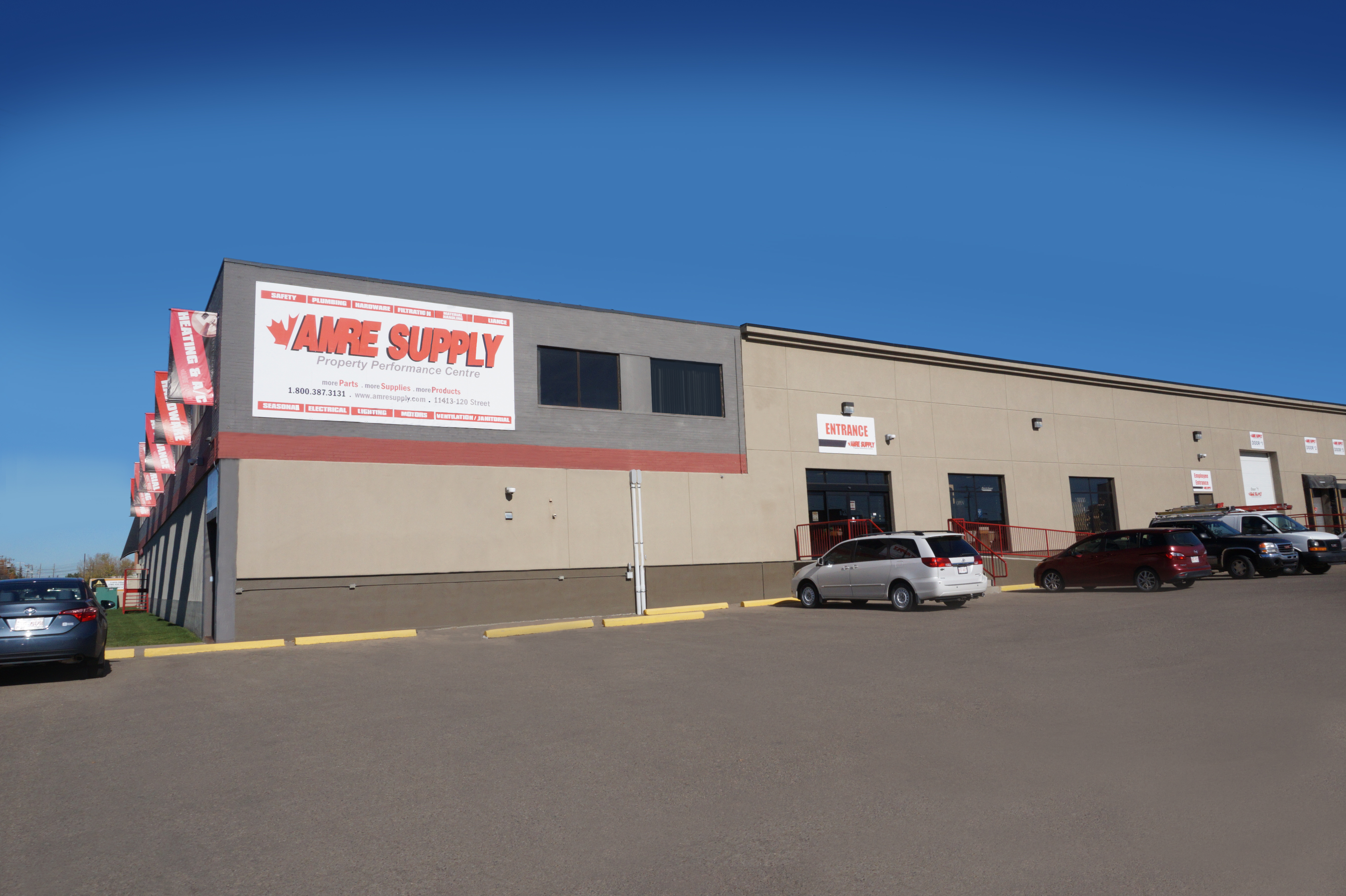 11415 – 120 Street Edmonton, Alberta
Imperial's largest building is this 101,923 ft² concrete block building situated on 3.83 acres in Edmonton's Hudson's Bay Reserve area. Located close to downtown and the former city centre airport, the property consists of one whole city block and is fully leased to three different distribution type tenants.
The Central Distribution Building is situated in a very central part of Edmonton that allows each tenant easy access to a large potential client base. Demand for this type of space is at its highest and given the central Edmonton location of this property, there is no doubt that vacancies will remain negligible and rental rates strong.
The area serves as an excellent location for a distribution or light industrial tenant and will continue to generate income for our Company but more importantly it has great future redevelopment potential. Imperial will continue to bank land in the new Blatchford redevelopment area.
Amre Supply Co Ltd. – is a supplier of parts, tools, equipment and fixtures for contractors and property operators. With 12 locations in major Canadian cities, Amre carries original factory specified parts that are engineered specifically for their appliances, plumbing, heating or cooling equipment. Amre also inventories many hard to find or no longer available parts for brands that are engineered to original specifications by quality manufacturers. With a team of experienced employees Amre Supply has the reputation of being Canada's Parts Professionals.
Canteen Canada – For almost 90 years, Canteen has pioneered the vending industry. From factories to schools, and offices to healthcare facilities, Canteen is always there with just the right food or drink to keep Canadians on the move. Canteen is a member of Compass Group Canada, the national leader in food service management and support services, serving over 10 million meals a day in award-winning restaurants, corporate cafes, hospitals, schools, arenas, museums and other sites. Canteen provides on-demand retail and food service, market, dining, vending and coffee through easy to access and pay vending machines. With 42 years' experience, Canteen is a market leader, offering the latest in wireless inventory control and other innovations to create the places, moments and opportunities for Canadians to access a quick, convenient break. Canteen Canada acquired Brazilian Canadian Coffee in 2020 and moved into the Company's existing space within the Central Distribution Building, integrating the office coffee and food service company into Canteen Canada's broad product and service offerings.
Edmonton Floral Delivery – has served the Edmonton region for more than 50 years. The company specializes in deliveries of refrigerated products and offers flower-shop pick-ups and deliveries, greenhouse and wholesale deliveries and cross dock. It is part of the Profloral Express distribution network, which works to expedite shipments of food products, cut flowers and live plants across Western Canada and the Western United States (Washington, Oregon, and California).