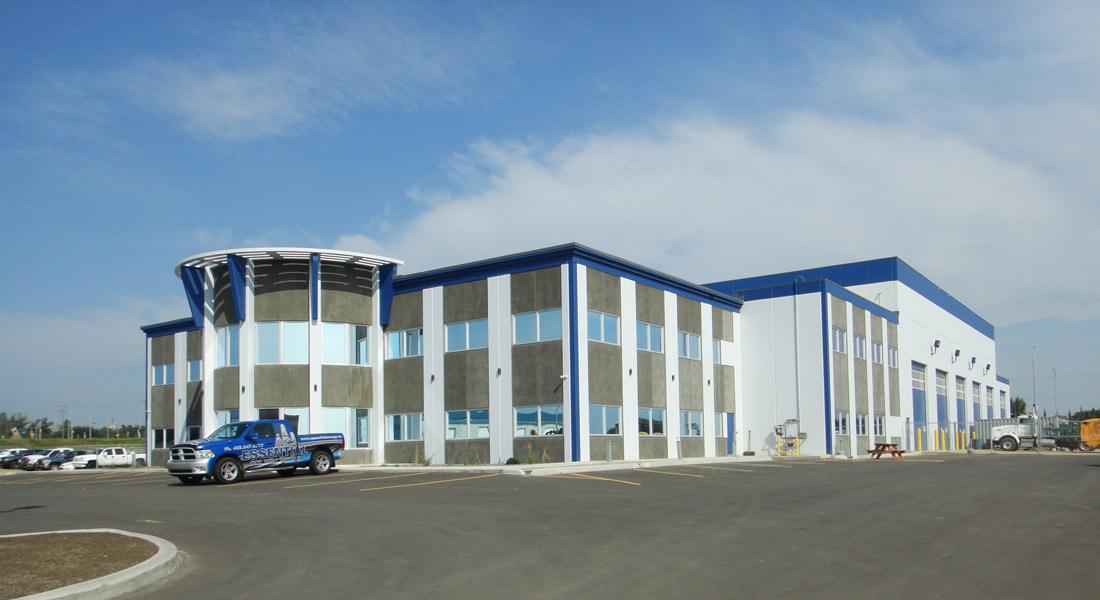 77 Queensgate Crescent, Red Deer, AB
Developed in the Red Deer's modish business park this 43,400 ft² building is situated on 10 acres of prime real estate. The Queens Business Park, newly created by the city of Red Deer, is positioned at the junction of highways 11A and the Queen Elizabeth ll and has become the desired location among corporations catering to the energy sector.
Designed in conjunction with the tenant, construction of the Essential Energy Building was completed in February 2014. This industrial tilt up concrete building is architecturally pleasing as well as state of the art. It employs a hydronic in-floor heating system throughout the building including the heating required for the large repair bays as well as the equipment wash bay. All 10,000 ft² of office area is improved and climate controlled.
Two 10 ton overhead cranes free span the entire repair bays providing easy access for loading or unloading anywhere in the warehouse. The perimeter of the building has a large concrete apron and asphalt surfacing for automobile parking. The storage yard consisting of approximately 8 acres is completed with a clay and gravel base with geotechnical fabric covered with a further 12 inches of gravel thus creating a yard that will withstand any large loads placed on it. The entire site is chain link fenced and access is provided through several 40 foot cantilever gates with electronic openers.
Essential Energy Services Ltd. – is a growth oriented, dividend paying corporation that provides oilfield services to producers in western Canada for new drilling activity as well as for producing wells. Essential Energy serves the energy sector throughout western Canada and the U.S. through several complementary divisions that include coil well service, service rigs and downhole tools and rentals.
Essential Coil Well Service, operates one of Canada's largest coil tubing well service fleet in Canada providing coil services to producers in the Western Canadian Sedimentary Basin and in the U.S. The new Generation III and IV masted coil tubing rigs are well-suited to complete longer, deeper and more complex wells.
Essential Well Service, operates its service rigs from six locations across western Canada. Service rigs are used to repair, re-complete and stimulate existing oil and natural gas wells and perform completion work on new wells.
Tryton Tool Service, has been successful in helping its clients complete vertical and horizontal wells using well established conventional products as well as its proven Multi-Stage Frac Systems – both open hole and cemented-in systems. It offers sales and rentals from service centres in western Canada, and the U.S., and a Warehouse/Distribution centre based out of Edmonton, Alberta.