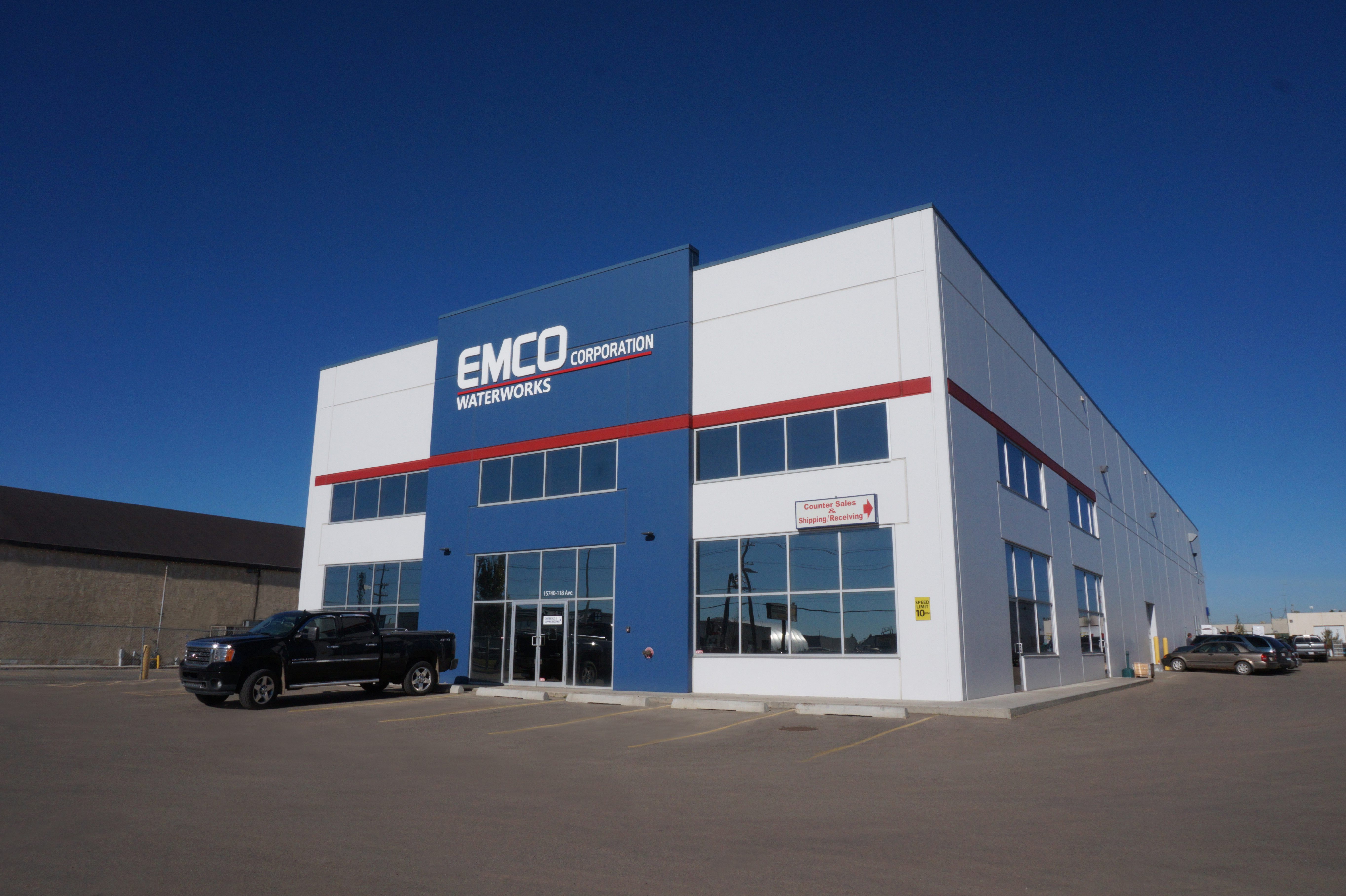 15730/40 – 118 Avenue Edmonton, AB
28,411 total sq/ft (2 buildings)
Located along one of Edmonton's busiest industrial roadways is the Capital Business Park. Acquired in 1999 this 4.1 acre property had several buildings on the site and the acquisition accommodated one tenant that required only one building but did not require the entire site. For Imperial Equities, an acquisition of this type of property was fundamental to its growing portfolio. Any residual lands would be land banked for any future development opportunities.
One of the buildings and approximately one acre of land was leased out to an equipment rental company and in 2006 Imperial undertook to renovate the 10,758 ft² building to a high standard. The transformation began with a complete exterior upgrade that consisted of a new roof, siding, landscaping and yard surfacing. The interior renovations have features such as a new sliding glass door entry system that leads to the 5,000 square foot showroom and climate controlled office area. A large repair and service shop includes a high pressure wash bay that allows for the cleaning of returned equipment.
In early 2011 Imperial was asked to prepare a lease proposal for a 3 acre land component and a new 17,653 ft² building designed specifically for the waterworks division of EMCO Corporation. Imperial engaged its team of consultants that included architects, structural, mechanical, electrical and civil engineers to dialogue with EMCO to create an office, showroom and warehouse facility. The consultation process culminated in an attractive eye-catching design and a construction method that is state of the art. The building is constructed with insulated tilt-up concrete panels that are developed in a climate controlled environment then transported and erected on site. The office and showroom consists of over 5,000 ft² with the office portion being a two storey contemporary design with the latest in energy efficient components.
EMCO Corporation – is one of Canada's largest integrated distributors of products for the construction industry. EMCO offers products in the distinct categories of plumbing and heating, waterworks, industrial, oilfield supply and HVAC (heating, ventilation and air conditioning). EMCO strives to satisfy the needs of its customers with a focused product assortment, transported and sold through an extensive network of branches, distribution warehouses and showrooms across Canada.
Since 1906 EMCO Waterworks has been serving Edmonton's burgeoning construction industry. EMCO Waterworks specializes in distributing vital construction materials such as PVC pipes, fittings, valves, hydrants, geosynthetics, septic and irrigation products.
Ahern Equipment of Canada – Headquartered in Las Vegas, Nevada, Ahern Rentals is a family-owned business which started from humble beginnings in 1953. Through organic growth, Ahern Rentals is today the largest independent rental company in North America, with 94 locations.
Ahern Rentals has over 54,000 pieces of equipment in the fleet, and serves customers in many sectors, including construction, industrial, residential, utilities, municipalities, conventions, and entertainment & events. The company specializes in high reach equipment, which permits the safe lifting of people or materials to work at height, and offers one of the largest selections in the industry.
Based on their family values, Ahern Rentals is committed to building relationships and takes pride in listening and responding to their customers' needs.