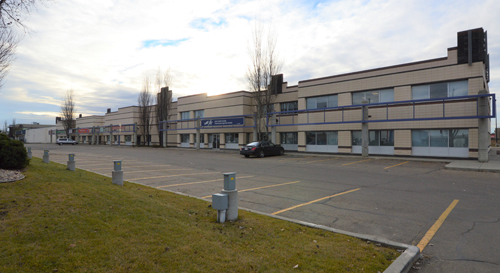 Coppertone Industrial Common: 12004/40 – 149 Street, Edmonton, Alberta
The Coppertone VII building is a true gem that is situated along 149 Street in Edmonton, Alberta and bookends the easterly boundary of our Coppertone Industrial Common, which has become one of northwest Edmonton's desired locations. The building is sited on 2.82 acres of prime commercial/industrial real estate with considerable frontage along the highly utilized 149 Street in northwest Edmonton. The Property has excellent curb appeal and superb exposure to one of Edmonton's most travelled thoroughfares.
Built in 1999, this aesthetically pleasing multi tenant building features a great mix of leasable space including service, retail, distribution and office. All service bays include rear grade loading with ample maneuverability as well as electrified staff parking. The building also features two dock loading doors that will offer any tenant the flexibility to deal with any logistics requirements.
Construction of this 48,776 ft² building is of a high quality steel superstructure that is dressed up with a variety of decorative concrete block that will immediately draw your eye to the property. The front façade is guarded by large concrete pillars that support a decorative metal frame and screen that serve as a sign band for the building. The entire property is meticulously landscaped and vehicular traffic areas are completely surfaced with concrete and asphalt. The location of Coppertone VII is strategic to Imperial's long term goal of creating an attractive and functional industrial area in northwest Edmonton.
LDI Commercial Kitchen Repair Ltd. LDI Commercial Kitchen Repair Ltd. – began its full service commercial kitchen and repair in Calgary, Alberta in 1990. Services range from gas, electrical, refrigeration, steam, beverage and installations along with removal and disposal of equipment. LDI also provides a planned maintenance program on their equipment.
In 2012 the company expanded to northern Alberta with an Edmonton location to better serve their clients. In 2016 the company further expanded to British Columbia with a location in Vancouver Island. With 18 technicians within Alberta and BC and thousands of parts in stock, LDI is ready to service their clients.
Battery World – is a supplier of thousands of battery types ranging from hearing aids to RV batteries. Their experience with an extensive and eclectic array of batteries has surprised many. If they don't have it chances are that they will know where to find it. The company experts can confirm your battery requirements and suggest alternatives you may not have considered.
Uniglassplus/Ziebart – are the trusted professionals for auto glass, accessories, and Ziebart servicing the Edmonton community out of this location since 2010. The team at Uniglassplus/Ziebart have extensive experience in windshield repair and replacement, remote starter installs and vehicle protection. The company offers professional detailing services to restore and protect your car's shine with Diamond Gloss, paint protection film, undercoating and rust protection services. The facility is first-rate, and the owners pride themselves on exceptional customer care.
Fifendekel Pie Shop Café – is a family owned and operated soup and sandwich business based in Edmonton. The restaurant prides itself on serving the freshest and best quality lunch in the city. Well known for their freshly made saskatoon, blueberry and flapper pies, Fifendekel can satisfy your every craving! Catering and delivery services for business luncheons and meetings are also available.
Fifendekel was founded in 1983 with a menu of pie and ice-cream. The business now operates out of four Edmonton locations and the family maintains that their pies are the corner stone menu item that sets them apart from other soup and sandwich lunch venues. The menu and daily features can be found online.
Magnacharge Battery Corporation – is one of Canada's leaders in battery wholesale and distribution. The company focuses on providing the highest quality batteries, chargers, accessories, additional parts, and components needed to keep your equipment running well. The environmental program places a strong emphasis on green sustainability by providing a full battery recycling program.
Since 1964 Magnacharge Battery Corp. operations have expanded from the west coast to the east coast of Canada and with distribution partners across the Americas. With product lines such as Trojan Battery, Fullriver Battery and Odyssey Battery, Magnacharge can power any application including any Cars, Trucks, RV's, Boats, Motorcycles, Forklifts, Emergency Lighting devices and even Power Wheelchairs and Golf Carts.
Farm Credit Canada – is Canada's leading agricultural service provider that provides financing and other services to primary producers, agri-food operations and agribusinesses that offer inputs or add value to agriculture. Farm Credit is a financially self-sustaining federal Crown corporation reporting to Parliament through the minister of Agriculture and Agri-Food.
Since 1959 Farm Credit has provided a range of customized financial and business solutions that have met the needs of more than 100,000 customers. The success of their clients comes from listening to customers and continually adapting products and services to their unique needs. The commitment to customers and the industry through good times and through challenges has allowed Farm Credit to be a credible and respected Crown corporation dedicated to the future of Canadian agriculture.