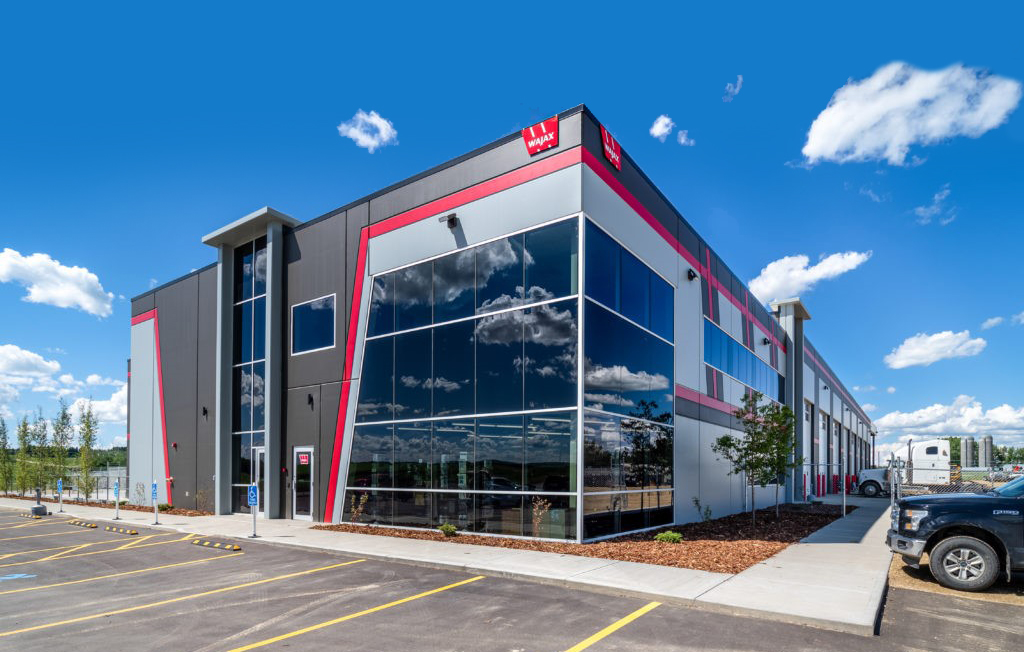 123 Queensland Crescent, Red Deer, Alberta
The Wajax Building is located within the Queens Industrial Park, a 640-acre industrial development located in the northwest area of the City of Red Deer. It is located advantageously, right off of Highway 11A and with quick access to the Queen Elizabeth II Highway, Alberta's busiest corridor. The 34,811 ft2 industrial building was built in 2019, as a build-to suit for the current tenant, and the total size of the property is 4.72 acres. The tenant, Wajax Limited, was fully involved in the planning and design of the building from the very beginning.
This eye-catching property has great curb appeal and features state of the art components.  The building is a modern precast concrete structure with approximately 10,811 ft2 of office space and 24,000 ft2 of warehouse space. The building also features 1 dock door and 17 extra wide grade doors which are positioned to create seven drive-through bays and a large wash bay. The warehouse has two craneways and four 10-ton cranes spanning the length of the space.  It also features an SBS roof that extends beyond the north wall of the warehouse to provide a covered storage or work area and is complete with a concrete floor and an exterior wall, which allows for an easy transformation to create an additional 6000 ft2 of future warehouse expansion space.
Wajax – As a leading industrial products and service provider, Wajax has been serving major Canadian industries for well over a century and a half. As one of the oldest businesses in Canada, Wajax has played an active role in the development of the country's infrastructure. Its roots trace back to 1858 when B.J. Coghlin opened a blacksmith shop in Montreal. The business continued to grow steadily in manufacturing and in 1954 it acquired its first mobile equipment subsidiary – a manufacturer of portable pressure pumps by Watson Jack & Co. Limited. With that the brand "Wajax" was born.
Today, Wajax operates more than 100 branches across Canada and represents a wide range of leading world-wide manufacturers. The company continues to expand and acquire additional and highly specialized companies to service the construction, industrial/commercial, transportation, the oil sands, forestry, oil and gas, metal processing, and mining market sectors.
Wajax prides itself on sales and service excellence and their world-class brands and products. The organization ardently attributes its success to the relationships cultivated throughout its customer base, its vendors and within the entire Wajax team.
Listed on the Toronto Stock Exchange, Wajax trades under the symbol WJX.