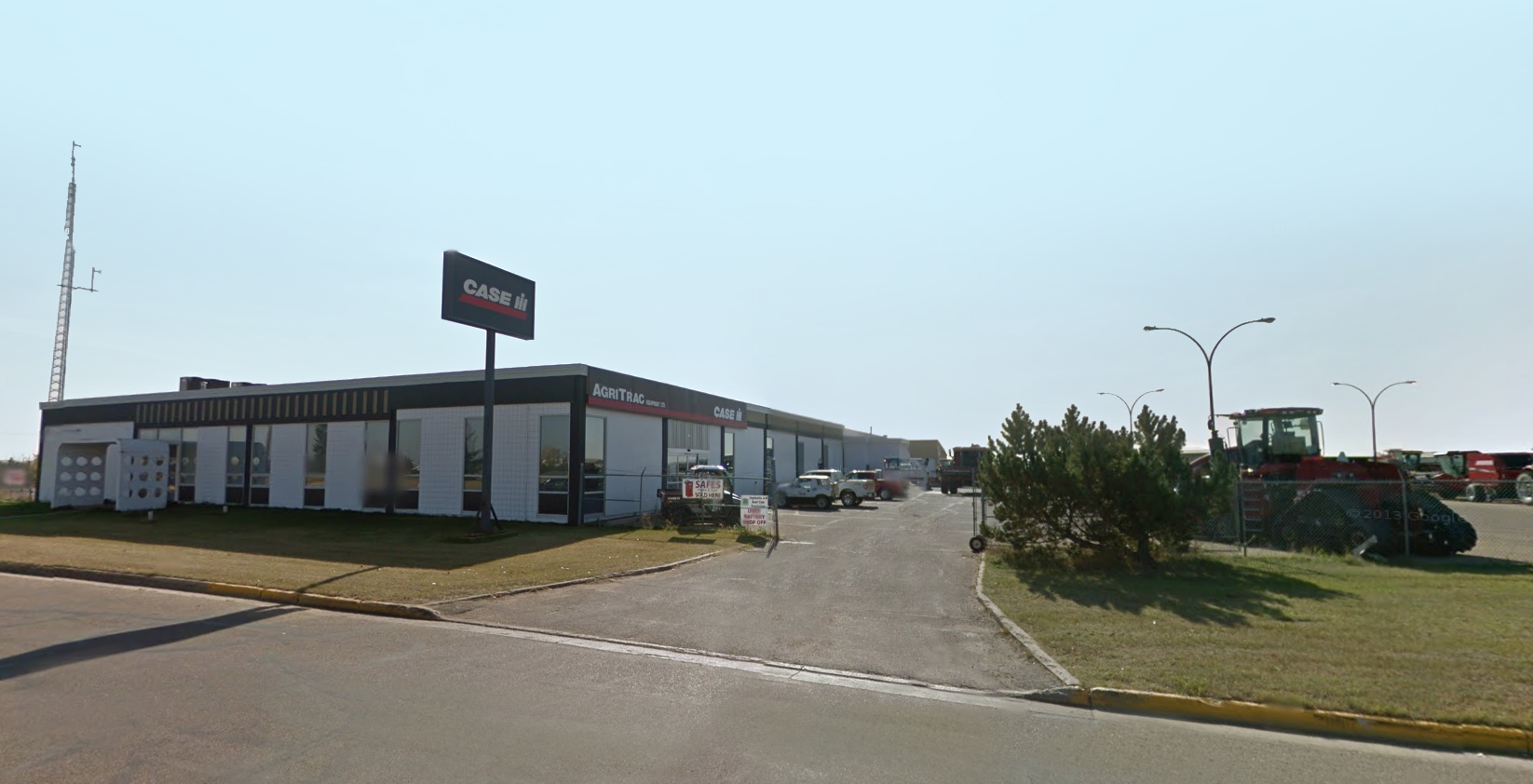 6425 – 55 Avenue, Vegreville, AB
The Rocky Mountain Equipment Building is located in the heart of the town of Vegreville, Alberta. The property consists of 5.89 acres of serviced industrial land and is situated along 55 Avenue, which provides for easy access to and from 2 major thoroughfares being the Yellowhead Highway and Highway 16A. The large square site is all level, fully fenced and has a completely hard surfaced parking lot.
There are four buildings on the site totaling 33,295 ft2 and each serve a specific purpose for the operations of Rocky Mountain Equipment (RME). The main building is 25,775 ft2 and serves as a show room, parts room, general offices and a modern service centre, all on one level. Construction is a combination of concrete block, stucco, and metal cladding all wrapping a steel superstructure. The building is fully sprinklered, fire monitored and includes mechanical systems such as HVAC combined with a hot water heating system all powered by an 800 amp electrical service.
A newer 5,440 ft2 service shop is located facing the rear of the main building. There are 10 large overhead grade doors that access 10 service bays that serve as overflow during peak farming seasons. The remaining two buildings on site serve as parts and merchandise storage.
Rocky Mountain Equipment (RME) – is a consolidator of agriculture and construction equipment dealerships, primarily focused around the CNH (Case-New Holland) brands. RME is the largest independent dealer of Case IH and Case Construction equipment in Canada, and the second largest in the world. RME's business employs nearly 800 people directly and serves tens of thousands more customers and their employees. Operating 36 dealerships across Alberta, Saskatchewan and Manitoba as well as customers radiating beyond those three provinces, RME's goal is to bring professional, stable, and dependable equipment partnerships to its customers.
The RME dealership network has continued to grow since 2007 and the search for acquisition opportunities continues. The RME vision is to become a North American industry leader through being a dependable equipment partner for our customers.