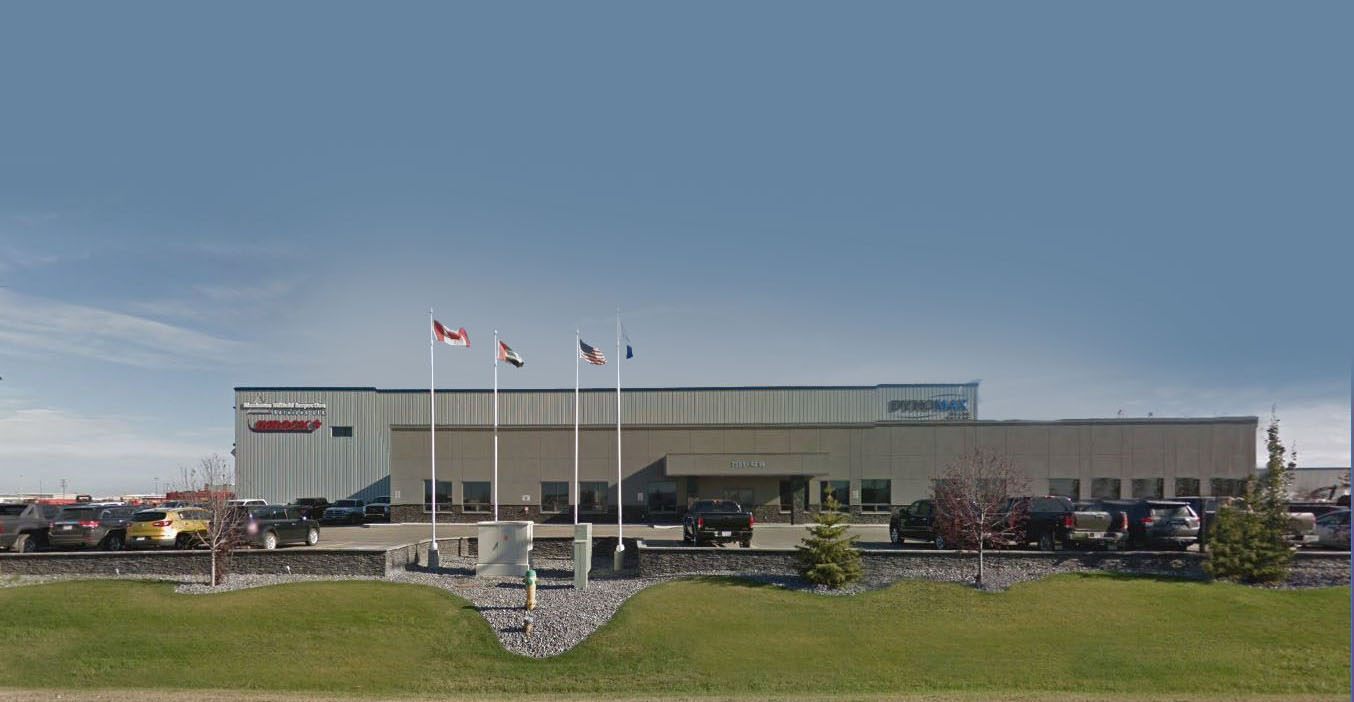 7501 – 42 Street, Leduc, Alberta
The Dynomax Building is a located in the newly developed and highly desirable industrial corridor connecting Nisku with the city of Leduc, Alberta. The property consists of 3.81 acres of serviced industrial land and is situated at the northeast corner of the intersection which affords access to and from 2 major thoroughfares. The large rectangular site has excellent exposure and is easily accessed by surrounding arterials including the QE II highway.
Construction of this 41,630 ft² single occupant industrial building was completed in 2014. Distinctly, a first-class building constructed using a steel superstructure and a combination of concrete block, stucco, and metal cladding. The 8,030 ft² office component which is situated on one level, features exceptionally high-quality finishes with a workmanship to match. The exterior of the office component incorporates quality features such as an abundance of large windows, decorative rock and a stucco façade.
The shop/warehouse areas comprise a total of 33,600 ft² with all the latest in engineering technology, including an in-floor water recycling system. There are 8 five-ton cranes on 4 individual craneways, all powered by a 1600 amp service. The components of the mechanical systems that include heating, air conditioning and make up air are all state of the art. The building is fully sprinklered and has a large paved parking lot with an abundance of energized parking stalls. The property is fully serviced, fenced and beautifully landscaped.
Dynomax Drilling Tools Inc. – A supplier of leading performance drilling products engineered for the oil and gas industry that provides high value products and services for vertical, directional and horizontal drilling operations worldwide. With the guidance of industry leaders Dynomax has been designing, testing and producing high-performance downhole drilling tools and components for oilfield exploration and development. Beginning with just a small team, they've grown to comprise global representation with operations in Canada, the United States, the Netherlands and the United Arab Emirates.
The Leduc, Alberta facility is not only the company's headquarters but also boasts a service facility for its ongoing maintenance program. Products are tested for fatigue and damage while authenticating current operation capacity. Dynomax is proud to have a comprehensive service program that ensures its customer are supported 24 hours a day, 7 days a week. Dynomax prides itself on its talented and innovative engineering team that creates oilfield products for worldwide markets. The company implements the highest industry standards and testing regimes ensuring high efficiency, productivity, and dependability.