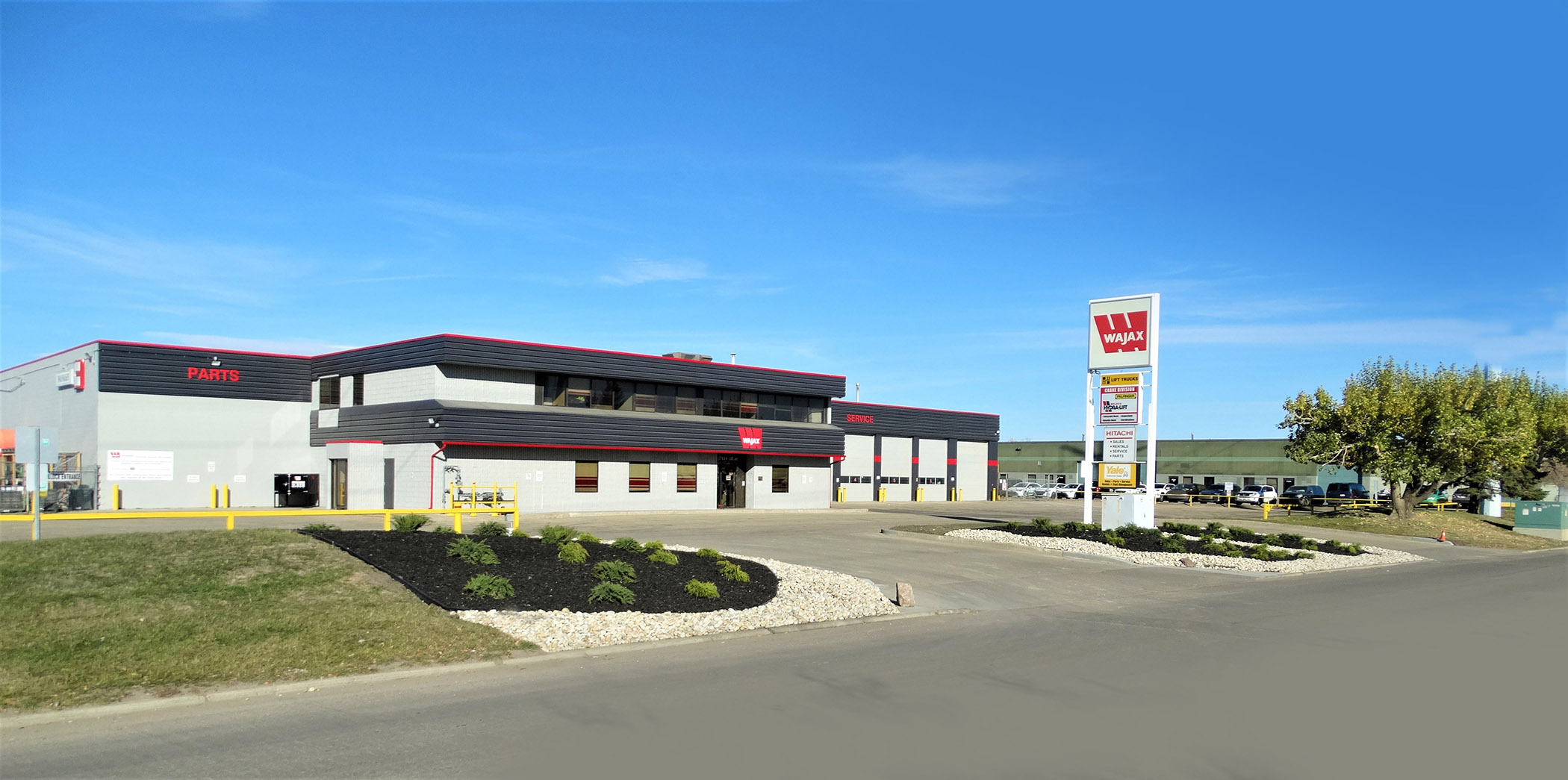 17604 – 105 Avenue, Edmonton, AB
The Wajax Edmonton property is located within the busy McNamara Industrial Neighbourhood in Northwest Edmonton. The site has easy access to 170 street, Edmonton's busiest North-South roadway, and is proximate to 107 Avenue, a major east-west connector.  Both major roadways are also equidistant to Edmonton's ring road, the Anthony Henday.
The site consists of two separate and contiguous properties totalling 4.67 acres.  Each property has a fully functional building on site with a combined leasable area of 41,054 ft². The main building includes two stories of office space and more than 20,000 ft² of service bays with 16 large overhead doors. The second building is a steel frame superstructure with concrete walls and contains 10,612 ft² of service and warehouse space with four large overhead doors.  Both buildings are equipped with heavy power, multiple crane-ways, overhead cranes and jib cranes. The site is fully fenced, landscaped and features both paved parking and a compacted, graveled storage yard.
As a leading industrial products and service provider, Wajax has been serving major Canadian industries for well over a century and a half. As one of the oldest businesses in Canada, Wajax has played an active role in the development of the country's infrastructure. Its roots trace back to 1858 when B.J. Coghlin opened a blacksmith shop in Montreal. The business continued to grow steadily in manufacturing and in 1954 it acquired its first mobile equipment subsidiary – a manufacturer of portable pressure pumps by Watson Jack & Co. Limited. With that the brand "Wajax" was born.
Today, Wajax operates more than 100 branches across Canada and represents a wide range of leading world-wide manufacturers. The company continues to expand and acquire additional and highly specialized companies to service the construction, industrial/commercial, transportation, the oil sands, forestry, oil and gas, metal processing, and mining market sectors.
Wajax prides itself on sales and service excellence and their world-class brands and products. The organization ardently attributes its success to the relationships cultivated throughout its customer base, its vendors and within the entire Wajax team.
Listed on the Toronto Stock Exchange, Wajax trades under the symbol WJX.